WELCOME!
And thank you for your interest!
Hi, I'm Ross Anthony, an independent videographer, writer and illustrator based in Los Angeles. I've worked in 32 countries across four continents. One year, I backpacked solo around the globe. Sketchbooks, journals, and cameras weighed down my backpack as travel, culture, and citizens of Earth pried open my cramped world view to the bright light of day. More...
Ruby-Throated! RA-12/13/14
Plant a few flowers, put out a feeder, turn your yard into a hummingbird sanctuary. No need to spay or neuter, no need for a cage or aquarium - just look out the window. They've been quite peaceful for the last few weeks, but sometimes they can be mean to each other. I suppose, just like us. They're all over, but often go unnoticed, despite their beauty, just like us. Occasionally, one of them decides to own the feeder and camps out, dive bombing anyone who flutters by. That's no fun. When that happens, the rest are always looking over their shoulders (wings?) while feeding. Most people and hummingbirds are good folk, but occasionally there are those who claim more resources than even makes sense. I wish we all could learn to share better. When you finally see the beauty in everyone, especially yourself, you realize how embarrassing it is to be the bully. (Btw, the music is an excerpt from something I composed a few years back.)

Ah Sugar Sugar! RA-10/14/14
I've recently been mortified by the amount of sugar in things. The ice cream bars that I love are 30% sugar! What? Even innocent preserves -- aren't all that innocent - some are nearly half sugar. I started making my own! Anyway, I'm doing my best to remove sugar from my blood stream, even though it's swirling up in my mind with some sort of video PSA. I'll let you know more as that germ of an idea sweetens.

We played Torrance! RA-8/12/14
My girlfriend sound-meditated (is that a verb?) in Torrance. If you missed it, book us for your event. For details check out our "Rainplay" website: Rainplay.org … If you have any questions, just let me know! Chime in and tell me what you think of the video ... or let me know some of the things you do to de-stress and address the soulful side of yourself.

E-Motion Graphics! RA-6/26/14
I'm now equipped to make motion graphics for videos. Here's my video logo. It's amazing the grace and ease with which zeros and ones can bring lines and boxes to life -- and even give them feeling. It's also amazing that seconds of video require hours to create. See my extended version motion graphics sample here.

Chili4Homeless 2014!! RA-3/26/14
Yesterday, I ran Chili4Homeless backwards. A reader's purchase of the book over the weekend and the brisk weather the next day inspired me to make chili, and hope the rest of the readers sponsored the event after the fact! Another difference, this time I took the video camera with me. The video is about 2 minutes. First 1/2 - Make the Chili. Second 1/2 - Deliver the Chili! Click it and have a look.

Chip That! RA-1/5/14
We freeze moments in time simply by videoing them on our phones. I wonder what the ancients would think of that. Film took so long to develop, and tape was clumsy. But we still say, "I'll tape that program," don't we? Perhaps we should say, "I'll bit that," or "I'll chip that, and watch it later." In college, I was one of the first guys to own a camcorder. After enjoying video production, Life took me in other directions. But, I've always had a passion for moving pictures. And lately, I've been quite excited by the digital video editing tools of Adobe's Creative Suite. In fact, I've decided to focus on video production in 2014. Just recently, I chipped a wedding (to see that 3-minute sizzle reel click the PLAY BUTTON). Capturing emotionally pivotal moments for people with multiple HD cameras is a pleasure. And how about the actual proposal? It's such a beautiful moment: so full of love, vulnerability, and uncertainty, I'm honored to freeze that moment in time. The stuff of life concentrated in two pounding hearts, and then balancing precariously on one knee.

Imprints RA-12/5/13
An animal sauntered across my vehicle leaving only paw prints on the hood. A raccoon? A skunk? I grabbed my camera to photograph the dried-mud tracks of the night's trespasser. To my surprise the day reflected innocent clouds trespassing across the sky. I reached up to the sun silhouetting my own paw below that of the muddy creature's signature. How eerily one we all are - day, night, rat, writer, sparrow, reader. All traveling the earth and skies, reaching. Leaving our tracks knowingly or unknowing on paths, objects, souls. What sorts of imprints have you left on your friends, family, strangers, neighbors?

Fish Wish? RA-10/24/13
Recently, I traveled to Alaska and gaped at a moose, and a pod of porpoises paddling playfully. I glimpsed the highest peak in North America, and gazed at a waterfall rushing alongside a majestic translucent blue, centuries-old glacier. I pondered destiny upon banks of rivers teaming with rock-worn salmon projecting their scraped and exhausted bodies upstream over white water rapids relentlessly rushing down from the mountains. And for what? …Some non-contact spawning and death… Whatever challenges you're having, you have to ask yourself, "Would I rather be a salmon?" If you answer yes, then I present to you the image of a grizzly standing arm stretched out over the rapid you're considering clearing. Rather than wishing you were a fish, perhaps it's time to give in to evolution and change and adapt. Which reminds me. I am now offering more creative services. In addition to wordsmithing and illustrating, I've recently equipped myself to provide quality video. So if you have a project (instructional, promotional, musical, animation, or kickstarter) or an event (wedding, presentation, sport) give me a call. I shoot in multi-camera HD and edit in the Adobe suite. My girlfriend is also changing and adapting. She just finished her master's in spiritual psychology. An interesting degree, you'll have to agree. She offers a course that focuses on personal growth and relationships. So if you need assistance in any of those areas and you're in the Los Angeles area, contact me and I'll send you more info. Stop feeling like life is running you over, stop by your local fish market and buy some Alaskan salmon. I prefer Coho, but check what's in season. Bite down on coral-colored meat and ask yourself, "Who got the better half of that deal?"

Can'taloupe or Won'taloupe? RA-8/5/13
Shaped like Earth. Warm inside like the setting sun. Pick one with a bit of give on the rind. Then give a little bit. Give a little bit of your love … send a smile and show you care. That's a prayer from the Supertramp song drawn as sweet as cantaloupe - cool, juicy, orange tasting like a 12-string sounds. Missing something round in your life? Cut open a ripe cantaloupe, then give a little bit. It's the season to enjoy nature. What else more quenching could you possibly purchase with your hard-earned money? Perhaps the fruits of our labor, really ought to be fruits. Have our wants obscured our needs? What greater gifts have we than seeds?

Feeling Purrrfect RA-7/17/13
Ever made a cat purr? Did you know that purring can heal bone tissue? Once, when I was in Kenya, I pet a cheetah (through a chain link fence) and made it purr. If you think the purr of a house cat is sweet, you should hear a big cat purr! I didn't have any busted bones at the time, so I can't attest to the healing - other than it warmed my heart. Speaking of which, if you'd like to get your heart warmed, come bring it and your achy bones to our musical purr event. It's a sound/musical meditation experience that I've co-created with yoga/tai-chi teacher Jasmine Grace. The next one is Saturday in LA: RAINPLAY.org

.


Wonder RA-6/1/13
A few days ago, just after sunset, three planets made a little triangle in the western sky. Did you see it? Jupiter, Venus, and Mercury, all huddled in a little pool table triangle like cue balls floating in a turquoise sea. It was thrilling. I jumped up and down. With Pluto downgraded out of the planet club, that meant I was looking at half the planets in the solar system all at once -- the triangle three, and the planet I was jumping on. I live on a ball like that. I live on a wandering star. I'm an alien to some other being out there. Life, death and planets whizzing around the sun -- it's all a magnificent, magical, mystery. So why is it so stupidly simple to slip into autopilot and miss the view? How about you? How often do you look up at those twinkling stars? And when you do, what do you wonder about?

A Chili Day RA-5/8/13
Turned out I knew of three homeless folks on the west side of LA. They were easy to locate because they seldom strayed from their particular park bench or underpass. Plus, they populated their locations with a surprising amount of stuff. So, I cooked up the chili, put it in recycled plastic containers, and headed west. The first fellow was trying to get some sleep. He had a blanket over his possessions and his self. I would have assumed that he wasn't "home," if I hadn't happened to see him repositioning the blanket. To read more click: Chili4homeless. Btw, I'm screening "Great Gatsby" tonight, so I'll have that review soon. Currently, I'm working on a writing project and an illustration project. The former is for a man honoring his father with a biography. I'm not the ghostwriter, I'm the "with." And the later project involves painting ducks in a pond for a therapist who helps kids manage their feelings. What are you working on?

Citizen's Arrest RA-5/1/13
I hiked the rocky trails bounded by snow-capped mountains in North California's Mammoth Lakes area. The Manzanar Pilgrimage brought me up that way. One of WWII's "relocation centers" for the Japanese-Americans that were rounded up and "detained," Manzanar is a somber reminder of how fear, greed, and racism can trample our most treasured American values. As one of the speakers said (and I paraphrase), "The pilgrimage is not a stroll down Memory Lane; these issues are just as important today." Former internee and writer, Hank Umemoto read from his moving book which meanders between his experiences at Manzanar and his quest to hike the mountain beyond its barbed wire fences.

Planet Earth RA-4/21/13
It's perfect: blue water, great temperatures, hills, valleys, sandy beaches, skiing even! I'm sure I'd get dry throat on those other planets. And 8 months between sunsets on Venus - where's the romance in that? So, I've been trying to use less plastic and gas. (My motorbike Chili gets 70mpg!) How about you? What are you doing to be nice to the world? (BTW, I once backpacked all the way around it.

) Monday is Earth Day! What a coincidence! That's exactly the planet we're living on.  To celebrate, I'm extending my Chili4homeless.com event to April 30th, AND cooking up a bowl of chili for a local homeless person when you buy a full-sized, signed copy of Circle Earth via my this site. I gaze up at the stars often and have come to the conclusion that Earth's a pretty cool place. Do you agree? Cool! So, what's your favorite thing about it?


"CHILI FOR HOMELESS" thru 4/30! RA-4/1/13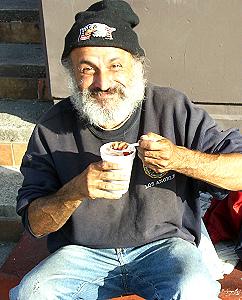 These chilly days remind me that it's time to cook up some chili for the homeless. You can help! Now through April 15th when you buy (directly from me) a signed copy of my uplifting book Zen Repair and the Art of Riding Chili I'll cook up a cup of chili for a homeless person. See photos & read stories from past Chili4homeless.com

charity events. Btw, you hear about that homeless guy who gave back the $4k ring?


Book Proposal RA-3/19/13
After two months of careful consideration a publishing house has passed on a book proposal I sent them at the beginning of the year. A rep from this publisher impressed me during a panel discussion at a recent book convention. The chat inspired an idea for which I wrote a few chapters and drew up a book proposal. As you all know, I'm fiercely independent, so submitting a proposal proved a bit of a philosophical challenge for me. Since the impetus for the book surfaced as a result of the rep's talk, I rationalized that sending her the proposal first made sense. Btw, when publishers "Pass" on proposals, it often times has nothing to do with quality or content. My proposed book is a lovely idea and I absolutely intend on producing it as an independent writer/publisher/illustrator. I'm looking forward to writing it into ebook reality. I may even re-illustrate it. Are you curious?

Cold Weather & Warm Books RA-3/6/13
I've always liked readers. But I didn't always read. As a kid growing up in the Midwest, I much preferred wrestling my friends in the snow to wrestling written words on the snowy white page. Reading wasn't my friend. But, I befriended readers. They could tell me juicy stories, amazing facts, odd wonderful details, all without the frustration of me having to read. Even though, just like me, the readers on my chilly city block never left the neighborhood; when they finished a book, they had something I didn't have - that feeling of returning from a faraway place. And even in the depth of winter, those journeys branded each of them with a warm bronze tan.

Scroll My News RA-APRIL 2013
For a while now, been brainstorming a new method to deliver my enews to your front door. Then it occurred to me to use my front door! Right here on my front page - you can scroll through the newest goings-on, most recent quotable quips, my freshest film & book reviews, etc. You can even chime in! Took me 1/2 a day to code it. Kind of looks like a Kindle screen doesn't it? Or am I kidding myself?