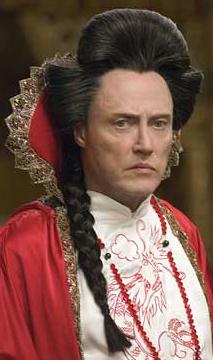 When I first heard about this picture, I thought to myself, "A screwball comedy with Christopher Walken -- I'm in!" But then I saw the previews which looked horrible. But the truth of the matter is quite in between. "Fury" has qualities of a flop, but it also has sparkling moments of silly redemption.
Its opening scenes are cut-quick, loud, flashy, they really seem like they should be funny -- but they flatly aren't. At my screening, I wasn't the only one not laughing. But, out of nowhere our anti-hero pings a ball off some guy's head, "Ah ... a volunteer!" "No," the guy replies dumbfounded, "I was just getting some mac and cheese." Finally, the silent audience begins to laugh.
Soon afterward George Lopez takes to the screen with strength and the film actually starts rolling. Add Maggie Q. with great looks and even greater moves, baddabing baddaboom, "Fury" begins to entertain.
At the halfway mark, Christopher Walken struts on screen with flamboyant power and takes control. This guy could say anything and I'd crack up. As it turned out, he had some very funny lines.
Overall, the film begins without a pulse and though it does fire intermittent blanks throughout, "Balls of Fury" musters up momentum with a silly sense of humor that eventually, just barely wins over its audience. It's a strong B or weak B+. I'm forced to Round up...B+. If you're a Def Leppard fan, you'll have a great time. And if you do have a great time, try Blades of Glory