Looking for a clean beach, warm sea water resort town getaway closer than Hawaii or Asia, gf and I decided on Cabo San Lucas. Situated at the Southern tip of Baja California and bookmarking the Pacific Ocean and Sea of Cortez, I found Cabo a geographic curiosity. And I loved that warm water Sea of Cortez (aka Gulf of California).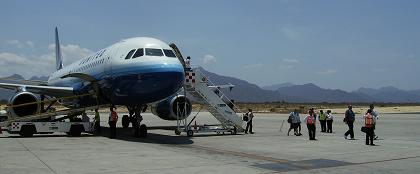 United Airlines offered a nonstop with comfy leather seats and plenty of leg-room even in standard class. No lunch, we were happy with the ham sandwiches we'd prepared and packed prior. The two-ish hour flight from L.A. was a breeze, but the 100+ heat coming off the runway concrete hit us a bit hard. (We were told this was a record-breaking heat week.) We waded through the hour long immigration line at the small but quaint, clean, and thankfully air conditioned airport. Once through immigration, a flock of tourist reps descended upon us like pelicans. Badge yielding and polite, they woo with smiles and knowledge, but they are not necessary. One referred us to another (at a stationary desk) where we were enlightened for ten minutes before we realized this was not for us. They're harmless, but certainly aim to sign you up with a roundtrip shuttle or taxi which will supposedly be refunded if you attend some timeshare or hotel promo seminar. We just wanted a cheap ride to THE BUNGALOWS. We moved on to a second flock before spotting a booth labeled "Authorized Shuttle Service." At 15us one-way the clerks warned us to purchase roundtrip, since (they said) we'd not be able to purchase return shuttle tickets on the other side. We took the risk with no problem later. For groups of four or more, a taxi is probably a better deal.
The shuttle stopped at several hotels on the way, dropping off passengers. Not minding the additional 30 minutes travel time to cabo, we felt we got a free tour out of the deal. I suggest sitting on the left side (facing front) for the best vistas.
The BUNGALOWS(rated number one by trip adviser)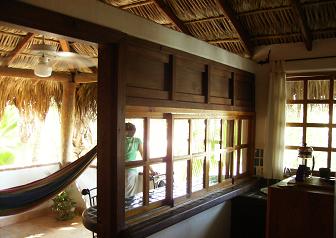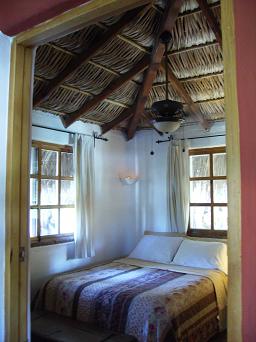 We stayed 5 nights at the Bungalows in a second floor cottage suite. Three inviting rooms plus a kitchen and bathroom all topped by a tropical palm leaf roof. The two enclosed bedrooms each had their own ac which provided a welcome refreshing relief from that first day heat. The third room was really an outside porch equipped with 2 comfy hand made chairs and a hammock. Gf and I crawled into the hammock one evening and cradle-rocked in peace.
We never used the smaller bedroom, which looked more like a sitting room, but we opened its beautiful French doors to the smell of tea -- a very nice touch. Also, impressive, the French press and ready coffee in the kitchen. We took full advantage of the microwave and refrigerator, stocking the latter after a walk to the local market with juice, soda and hot dogs for those nights when we were too beat to go out again. A horizontal row of French windows separate the kitchen and porch -- very sweet. As for the bathroom, though the hot water works fine, we found little need for it.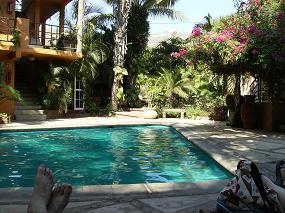 Friendly visitors lounged about a small cool blue 5-foot deep pool which snuggles between the units. And although the Bungalows are in general very welcoming, the next morning greeted us with it's sweetest treasures: breakfast, coffee and Eric.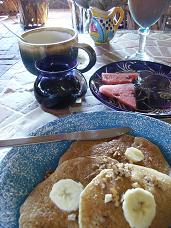 My favorite meals were the banana pancakes and the cinnamon French toast. Both were absolutely dreamy. I kid you not, after I ate the Bungalow's French Toast breakfast, I would pause during the day just to remember it. Even now… let me pause, hmmmm, heavenly -- a culinary miracle. And the coffee found that cocoa note, I so often miss. Somewhat of a coffee snob myself, (even roast my own), I can tell you -- you're in for a treat with that coffee.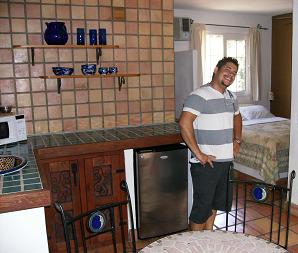 And then there's Eric, big smile, relaxing demeanor, passionate caring, and readiness to take care of anything you might need. My gf woke up itchy, we mentioned it to Eric, the next day he replaced the sheets and bedspread with ones that were not washed in softener. This did the trick. Before a walk to the beach, Eric literally dove into a storage closet to pluck out a beach umbrella for us. And on our last day, when we asked to have our left over waffle wrapped for the lunch-less plane ride back home, Eric gave us two new waffles and even cooked up some quesadillas to go. We found him very personable, and truly happy to treat us as family.
Btw, the photo to the right shows Eric in a standard unit with similiar amenities but no leaf roof.
PEZ GATO SNORKEL TOUR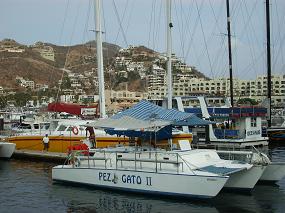 During our Cabo stay we snorkeled with a Pez Gato tour. Pez Gato, we learned, means Catfish. From the Bungalow, the marina is a 10 minute walk, another 5 minutes gets you to the main dock. The sturdy boat, was large and comfortable, stocked well with food fruit and drinks, and manned aptly by a fun, friendly, helpful crew.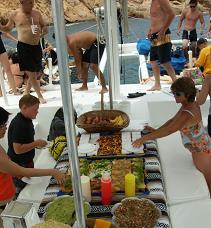 Our 10am Marina departure took us to Santa Maria beach for snorkeling. Many other tours/snorkelers share this little cove. The hour or so time allotted was good. I even had time to swim to the clean yellow sand shore along the way I viewed many species of fish inhabiting the reef, among which I saw an eel and an eel like fish.
During the ride back, our captain stopped for dolphins which surfaced all around the boat… some could easily be seen swimming just under the surface mere feet from the bow.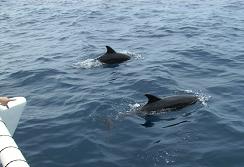 I suggest climbing up on the netting in the boat's front and watching. The sandwiches and fruit hit the spot, as well the juices. Drinks were also available.
Classic rock music piped from a solid sound system adding a welcome "happening" feeling to the ride. Just before entering the marina, we paused for a great view of "the Arch," where I shot the photo at the top of this page. Lover's Beach was also in view. We refreshed with one last dip in the water before disembarking at 2pm. Reliable and on time. The snorkels supplied worked fined. And no Scuba divers were aboard, all attention was given to snorkelers, making the Pez Gato tour a great trip for novices and beginners. I'm a strong snorkeler and I enjoyed it as well.
BEACHES & EATS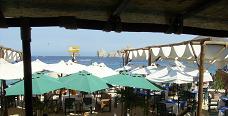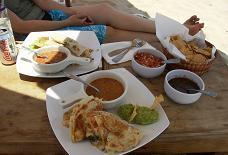 For the most part we enjoyed walking around town and poking our noses into interesting eateries. My favorite, besides the bungalow breakfast, was Medano Grill right on Medano beach (a 35 minute walk from the Bungalows). We enjoyed their lounge chairs and umbrellas just 20 feet from the cooling ocean waves. The waiters were happy to move the umbrellas to give us more shade. Their shrimp quesadilla came with avocado standard and melted in my mouth. I loved it. We lounged and lunched and swam right from that spot for 4 hours. The water was sweet, warm, clear and the sand free of litter and rocks. Very nice. I even snorkeled in that partitioned shoreline (jet ski rentals on either side), no reef, but I did see a grand school of foot-long fish.
We also frequented "Solomon's Bar & Grill" at the Tesoro corner of the Marina for $3 calamari, chicken quesadillas and $4 bbq ribs. The drinks were pretty reasonable as well. Lastly, Taco Chava, just a block or three from the Bungalows was recommended by some fellow tourists. I wasn't all that impressed with the alambres, although we did like their specialty pork tacos.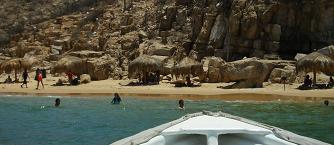 One day, we packed some snacks, cold drinks, a snorkel set and Eric's umbrella and set out to take a water taxi to Lover's Beach. Unfortunately, we found that the waves were too choppy and taxi service was temporarily discontinued there, instead a taxi offered to take us to a nearer beach called "Empacka Doro" (spelling is way off I'm sure). Drop and picked up for $12us (including tip), but this beach is actually walkable, just 15 minutes or so down the marina. Nary a tourist there, the quaint corner beach was populated almost entirely by locals. Refreshingly, not a singly vendor or hawker disturbed our stay. In fact, one man offered to share the shade of one of perhaps 10 permanent "natural material" umbrellas installed on the beach. He was kind. Again, I snorkeled and enjoyed the fishes. Unfortunately, this beach was not completely free of litter, and larger rocks hindered the carefree barefoot walk. Nonetheless, we enjoyed the experience.
Aside from the charms mentioned above, the Bungalows is quiet, provides safe haven from hawkers, free great tasting gallon of cold water in fridge everyday, AC comes with a remote, lights dim, clean, hot water maker for coffee, and USA style outlets running 120volts (double check that). But even the best can improve, and here are some of my suggestions for management. Affix more wall hooks for wet towels, bathing suits, etc. Place a trash can in bedroom. Mount a hand-height soap dish in the shower. Make sure first day coffee package is fresh. But the most pressing improvement needed, fix the squeaky water pipes. Probably this was a sound peculiar to our unit, sounded like a balloon being squeezed of air. These imperfections aside, we'd definitely recommend this little oasis. The regular units look nice as well, no need for the suite. But, the best unit, is probably the honeymoon suite -- it's on the 3rd floor corner of the main building, with all the sweetness of our unit, plus a great view over the city -- you can even see the ocean a mile or so down the valley. Last minute recommendations: Bring a big trash bag in your purse, this ensures a safe dry place for a splashy boat ride or unexpected rain. Be dorky and wear socks under your sandals, I waited till the 4th day to do that and ended up with sun burnt feet. Ouch, it was the only part of my body sun burnt. You can get a shuttle from the Tesoro Hotel back to the Airport for $16us a person. We made arrangements with the shiny green van taxis at the stand in front of a major grocery market to pick us up at the Bungalows the next day. The taxi arrived 15 minutes early, it cost $50 bucks for the two of us.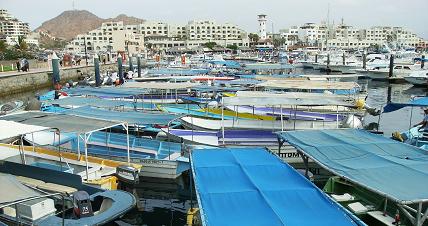 Copyright © 2009 Photos and Article by Ross Anthony. Questions? Feel free to write in.