My girlfriend and I recently enjoyed a trip to Catalina via a small package with the Metropole hotel in Avalon. That package included to and fro ferrying on the Catalina Express (Long Beach/Avalon), a two hour guided kayak journey and one night at the Metropole.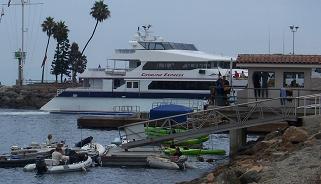 Catalina Express: Having once before taken an "express" boat to an island and gotten vigorously seasick, I boarded the Catalina Express tentatively. I made sure to sit outside and keep my eyes on the horizon. Fortunately, I and my girlfriend only experienced slight wooziness -- and really only when we got up to go inside. Initially, we sat in the windy last row outside. At first that was fun and since we'd come equipped with windbreakers and sweaters, we were well prepared. They proved very useful, despite an August getaway. The inside was nice as well, a quiet relief from the wind. On the return, we made sure to pick up a to-go lunch so we could eat in line at the gate while waiting for the two pm departure. During that return trip, we went directly inside to a nice window seat, lowered our seat trays and finished our lunches as if we were on a plane. It was a very sweet ride and neither of us felt woozy, although I did keep my eyes on the horizon.
The hotel was nice enough to reschedule our kayak adventure from the first day to earlier on the second. I wanted more time to acclimate before jumping in the water. This worked out wonderfully because day 2 was much sunnier and warmer. The walk from the hotel to the kayak beach set-up was sweet and relaxing. Though there could have been better signage, we found the place w/o much to-do. Thomas our guide, at first seemed rather standoffish, but once en route, were very happy with his low-key approach. He was both professional, knowledgeable and laidback, making the trip feel both guided and yet a private tour. We paddled out about a mile and a quarter and back. At the farthest point we stopped to catch some eerie glimpses of leopard sharks. They were clearly visible beneath the waving diffraction of the water surface about four to six feet from us. Thomas assured us that they were not a threat as they feared humans. Next, our small group stopped for fifteen minutes whilst I snorkeled at Frog Rock. I saw several foot-long orange fish and hundreds of smelt. That was fun. Some good sea sightings to add to bald eagle we spotted on the paddle out. Interestingly enough, I learned the next day that "bald" is an old English word that means white head and has since come to mean hairless. Crazy. Speaking of heads, I recommend wearing a hat with good brim. I wore my windbreaker just to protect my neck and shoulders from the sun -- it worked great and I wasn't even hot. However, I'd left off my sox and the tops of my feet burned between the straps of my thongs. Ouch.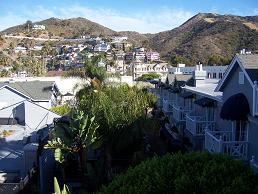 The hotel was open and inviting. The many open-air windows displayed rich lush views. Everywhere I looked on the way to my room, I was happy. We upgraded to a room with a Jacuzzi, and were very pleased with it. The Jacuzzi was in the bathroom (which also had a shower) but also opened via shutters into the bedroom. This made sitting in the warm bubbling water all the more relaxing. And while the room was not billed as an ocean-view, we were able to see the ocean, if we looked out at a sharper angle. Just near the window -- a fireplace, a small round café-type table, and two chairs. We put our feet up on the sill, chatting while chuggin' some water we'd bought at the Vons Express down the block.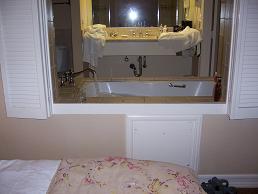 Overall, we quite enjoyed the hotel and would recommend it, but there were some imperfections. We were looking forward to relaxing in the rooftop Jacuzzi, but the heater was broken. That certainly didn't prevent us from sneaking an shady afternoon nap, laying rooftop on the lounge chairs. The hotel offered guest internet on a computer at the end of the hall, but when we had time to use it, the server was down. In the room there was a dimmer switch that didn't seem to operate anything. And the shower dial was slipping so bad we couldn't use it, we had to call to the desk. That said, someone was there in nary 1 minute -- I was shocked with the speed. Though apparently a part needed replacing, he and I were able to get the thing to work well enough for the rest of our stay.
A word on the staff. They were great. The guy came to help with the shower in less than a minute. Whenever we asked for something special -- we got it. For instance, the Kayak tour was part of the package, but because the day we arrived it was rather cool and overcast (great for walking -- not so inviting for water sports) we requested to change for the next day. They gave us a 10 am time slot for the next day. But since check out was 11am, we later asked if they could extend our check-out time to 1pm so that we could clean up after the kayak tour. Again, this was no problem for them. In fact, they'd let us check in at 1pm instead of the posted 3pm on the first day. These changes greatly added to the value of our time there and, despite the hotels imperfections, the fact that the staff was so accommodating also left us with a very warm feeling toward Hotel Metropole.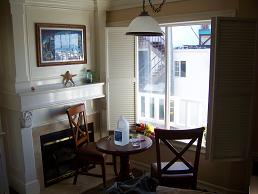 Avalon surprised me. I didn't expect such a cozy little town. I guess I expected more of a Honolulu or a Santa Monica. But Avalon is so much smaller, you can see the whole town as you ferry in. Nestled between two small mountains, hills really. The city is no bigger than 1 square mile. It gave me the feeling of Victoria, BC. And when I stepped down the streets, Avalon gave me that warm happy feeling of Disneyland but without the crowds and rides. I'm looking forward to visiting again in the future and taking a look at the rest of the island.