Corky, the happy-go-lucky, animal-loving brother of an Italian mobster type family, goes undercover (in the FBI) to rescue pops (Peter Falk) from incarceration. The soft, caring,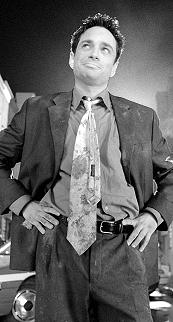 bubbly Corky, orange tie-clad contrasts stone-faced government agents and tough bad guys alike. The comic juxtaposition is hilarious.
Despite an initial eye-narrowing "animals out of their cages" introductory scene, Corky Romano hops into his yellow Miata and drives a vibrating jolt of solid laughter though audiences for a full hour. His "Ernest Goes to Camp" smile and Jerry Lewis buckling legs will keep you chuckling in anticipation -- both before and after the actual gags.
His deadpan brothers (peppered with cartoony, yet interesting character traits) strap a microphone to Corky's thigh and send him into FBI HQ with an agent ID and proper papers. However, Corky's nervous jitters around security prompt him to grapple for an excuse, "I had some coffee earlier and I'm just a little wired. AHHH! Wired like nervous, not like I'm wearing a wire tap kind of wired!" Smile.
Inexplicably, the bureau accepts him as one of their own (save for Brick - a Russell Crowe type hard guy), but this "is" a comedy. One of the agents shouts, "A four-eleven, we need to roll." Corky grins, sidestepping in the other direction, "I'll get my thermos."
While the last half-hour calms a bit, you'll need that time to recover from the virtually uninterrupted string of good belly-laughable gags that run through the first hour like an epileptic greyhound. Silly slapstick fun.