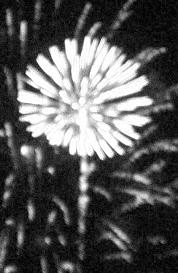 Admittedly, the words "Monster Trucks" don't usually prompt me to drop what I'm doing and have a look. But upon invitation by a friend, we headed out to Pomona Fairplex to see the July 4th spectacular.
Surprisingly, the sounds of their engines when first turned over really stir a sense of excitement! It made me smile and then chuckle. In fact, that was much more fun than the trucks "racing" over a pile of junk cars. Not much of a race. Their freestylin', wheelin' and donuttin' prove more worthwhile. Unfortunately, even though we had good seats, the monster trucks still look like radio toys. I suspect if one were right there down on the track looking up on them as they leaped six or so feet in the air -- now that would undoubtedly be quite awesome. Still, amusing.
And then there were the extreme motorcyclists performing unbelievable acrobatics atop their bikes in mid air. They were simply amazing and their display artful, beautiful and ill-placed as the pre-show. They should have been the headliners.
Finally, the fireworks, "The Spirit of America." Yes, somewhat schmaltzy with quotes from the president and patriotic songs ... but isn't that terribly appropriate for the occasion? I enjoyed it!
Arrive early! And if you are a courteous driver, I'd suggest bringing some playing cards to amuse yourself while hanging out in the bleachers as the crowd battles for the exits. There is almost no traffic management --you'll just get frustrated.