George Clooney has directed a couple of very fine films – namely Confessions of a Dangerous Mind and Good Night and Good Luck. Unfortunately, "Leatherheads" cannot be added to that list. It's not a bad film, and it definitely hosts moments of spark and cinematic panache. But the picture fumbles and even worse, slips into the boring here and there.
Set in the 1925-ish when professional football was scrappy, lawless and penniless, and of course, the helmets were leather hats, the film hopes to charm us with the flavor of cinema of that day. Imagine the Little Rascals as grown men. Certainly, Clooney and Zellwegger can be cute – but for 2 hours? And the story, while eventually intriguing becomes muddy in the telling. Lead-footed out of the gates, the ball doesn't start rolling until 20 minutes or so into the picture. An interjected "Keystone Cops" bit feels completely out of place and far too silly for the tone of the rest of the picture. Lastly, a formulaic, yet potentially crowd-winning climax becomes just as confusing and mucky as a football game played in mud. The ending relies on a fact that was never sold properly prior, that Dodge Connelly (Clooney) can only play as a rule-breaker. That said ...

... there were snippets of superior comedic editing – great word-less story-telling. Too bad this was only sporadic and not throughout. Overall, a mediocre film with moments of greatness and moments of way-not-greatness. A weak B.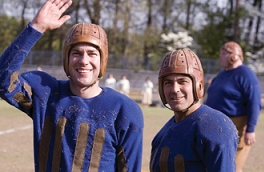 -- Book Contest --