Opening with on-the-street comments from eager ticket buyers, the pre-show cameos include a brief interview with Mama and Papa Cho and Margaret herself. Though she says she's a bit nervous about having them in the audience because of her show's sexual and political frankness, Papa Cho chalks it up as, "A little embarrassing, but it's real." Of course, Mama Cho needs only a few words to crack up the audience of cinema-goers.
Taking to the stage with a relaxed patience, Margaret contrasts her own tribute to rescue workers with what I think is the most in bad taste, questionable joke of the show. Then a stint in drug-related humor, most of the show is dedicated to straight sex, gay sex, and bi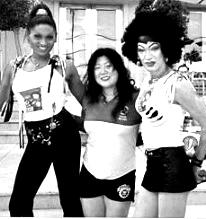 -sexual humor. All of which is extremely irreverent, sometimes graphic, and often extremely funny. Her "If straight men had periods" bit had the audience in stitches, "every bachelor apartment would be like a murder scene." And her tangent into bisexualism hosted so many obscenities, I can't begin to explain it here, save to say that we were all laughing out loud.
Accenting her already outrageous sense of humor, intellect, honesty (though I'm not sure how much was true), and timing, are her classic frozen moments poses.
Closing on a more serious bit of rhetoric, Margaret takes aim and fires at the "billions of dollars spent of advertising and marketing to make you feel crappy about yourself" all in order to sell products that can't change you. She winds up bidding a revolution of self-esteem for those not fitting the TV-created ideal of beauty. For this, she leaves no real punch line. And though the point resonates, it's weakened slightly by her earlier teases of seriousness (the 9/11 intro, for example).
Begged back on stage for an encore, Margaret closes her program with a cute Mama Cho camel story and leaves us to recuperate from laughing so much.
(CD version available.)
Margaret was born December 5, 1968 and raised in San Francisco and started performing stand-up at the age of 16 at a comedy club above a bookstore her parents ran. Soon after, she won a contest and opened for Jerry Seinfeld. She moved to LA in the early '90's and lived in a house with several performers.