Though no fault of the filmmakers or cast, this is exactly the kind of film I'm not likely to enjoy. For that reason, I'd originally decided to keep my bias to myself. However, as so many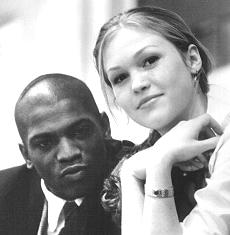 other critics have been praising this piece. I feel a bit of an obligation to those who share my subjective disposition.
A modern day adaptation (with modern language) of Shakespeare's "Othello," "O" follows the malice inspired trickery of one neglected H.S. basketball player as he seeks to sabotage the talent, hopes and dreams of the team's most talented player. There is no relief from that plot, and progressively fewer fragile uplifting beats, so if you like down films ... "O" is certain to take you there.
All perform well, especially Julia Stiles who continues to impress me (and many others) with her acting abilities. She definitely seems to be on her way to becoming one of America's most respected actors. More about Julia below:
Tight filming and directing move the story along well until the tragic ending, where the round to climax takes some minor scripting bumps.
These comments from the Production Notes:
Julia Stiles exhibits a rare sophistication in the characters she plays. She was last seen starring in the Paramount/ MTV megahit, "Save The Last Dance," for which she was nominated for two MTV Movie Awards. The film opened to strong reviews as well as the #1 position at the boxoffice for its first two weeks in release. As a result, Paramount Pictures and MTV Films signed Stiles to an open-ended development and production deal.
Stiles has numerous upcoming films in addition to Tim Blake Nelson's "O." Stiles also stars in Patrick Stettner's independent feature, "The Business of Strangers" opposite Stockard Channing. Having premiered at the 2001 Sundance Film Festival, "The Business of Strangers" is a tale of competition, power and control that centers on an executive (Channing) and her assistant (Stiles) who enter a psychological game of cat-and-mouse that forces them down a path of self discovery. The film is expected for release by IFC Films in late Fall 2001. In addition, Stiles makes a cameo in Doug Liman's "Bourne Identity" starring Matt Damon and Franka Potente for Universal.
Recently, Stiles co-starred in David Mamet's "State & Main" for Fine Line with William H. Macy, Alec Baldwin, Philip Seymour Hoffman, and Sarah Jessica Parker. In addition, Julia starred as Ophelia in Miramax's contemporary adaptation of William Shakespeare's "Hamlet" directed by Michael Almereyda. Stiles starred opposite Ethan Hawke and an ensemble cast including Bill Murray, Diane Venora, Sam Shepard, Kyle MacLachlan, Jeffrey Wright and Liev Schrieber.
Stiles previous credits include Disney's acclaimed comedy hit, "Ten Things I Hate About You" for which she earned a MTV Movie Award for Best Female Breakthrough Performance in June 2000 and the Chicago Film Critics Award for Most Promising Actress. Directed by Gil Junger, the film is a modern retelling of Shakespeare's "Taming of the Shrew." Stiles also made a lasting impression with her riveting performance in Michael Steinberg's critically acclaimed drama, "Wicked" which premiered at the 1998 Sundance Film Festival and the Prague Film Festival. Additional film credits include Miramax's "Down To You" opposite Freddie Prinze Jr., Alan J. Pakula's "The Devil's Own" with Harrison Ford and Brad Pitt, "I Love You, I Love You Not" with Claire Danes, and M. Night Shyamalan's "Wide Awake" with Rosie O'Donnell.
As a writer, Stiles screenplay "The Anarchist's Daughter," was chosen as one of twelve scripts to be included in the Sundance Institute's Writers' Lab.
On television, Stiles starred in the ambitious NBC mini-series, "The Sixties," with Jerry O'Connell and Josh Charles from producer Lynda Obst. Stiles also starred opposite Ellen Barkin and Oprah Winfrey in the ABC/Harpo Films special presentation, "Before Women Had Wings." Additionally, her performance as a young unwed mother opposite Isabella Rossellini in an episode of the CBS drama "Chicago Hope" garnered critical praise.
Stiles began her career on the New York stage, appearing in a number of plays at the LA Mama Theater and the Kitchen Theater, including "Everyday Newt Burman, Matthew: School of Life." Julia also starred in Mac Welmann's "The Sandalwood Box." Most recently, Julia starred in Eve Ensler's "The Vagina Monologues" with Gloria Reuben and Mary Testa at the Westside Theatre in New York.