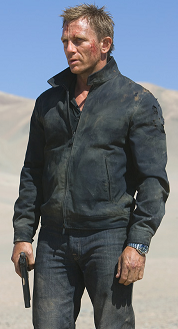 This boring lackluster title belies the non-stop action spilling off the screen in this newest Bond picture. Daniel Craig's debut as Bond in Casino Royale impressed everyone, though that film experienced some unfortunate drag, Quantum never lets up. Craig, again, is strong, convincing, doggedly determined, infinitely watchable, but uncharacteristically quiet for a 007. If you're looking forward to cool, smirky rebuffs, or sexy, steamy romance, you may be disappointed. That said, if, like Bond, you're up for reanalyzing the situation as it presents itself, Quantum offers a solid 2 hours of compelling cinematic action.
The direction is as smooth and confident as this British agent. Action sequences are shot and edited with artful dynamics and contrasting perspectives. For instance, the film opens with a sweeping aerial shot of green-treed cliffs off some exotic blue sea. It's beautiful and peaceful, but as the camera approaches land an unsettling tension diffuses that calm until we realize a bullet-ridden car chase drives chaos through a tunnel winding inside that serene mountain scene.
The outward plot is rather shabby and spotted with exposition to clarify, but its awkwardness is easily eclipsed by the stylish direction, powerful sound editing, stunning cinematography, vistas, action, and Daniel Craig's impenetrable demeanor. Go to the theatre expecting a great ride and you will not be disappointed.