tHr3, a fine young local band, will celebrate its third year of existence at PCC (Harbeson Hall), March 10th, 2000. It's a free show (but it's always nice to bring a gift).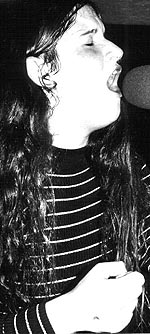 Meandering around Universal City Walk looking for something to catch my eye, tHr3 catches my ear. A female vocalist crossing Morissette with an Indigo Girl delivering all the passion of Joe Cocker navigates acoustic rock. Backed firmly by a crisp male harmony whose solo pieces reflect one Billy Pilgrim, the band members, so religiously into their own music, squeeze eyes shut as if to give the music an extra push on its way out of their bodies. Rock solid songs, with a live mix so often neglected by young bands. Vocals come across distinctive, bold and expressively on, a definite rarity - and from the sidewalk to boot. I shuffle over, drop my dollar in the guitar case and sign onto their mailing list.
Upon receiving notice of a local gig, I contact the band regarding their upcoming birthday and they invite me to a practice session.
In their modest Altadena studio, lit only by a winding vine of white Christmas tree lights, tHr3 is quite literally a band in a box. They stop practice a few minutes early to speak with me:
RA: What does a band birthday mean?
April: Three years ago on March 16th we had our first gig at Espresso Cabaret at Old Town Pasadena.
RA: What should people expect - party hats? Gifts?
Mike: Music.
Joshua: Two sets with an intermission with cupcakes and punch. We're also doing it as a low-key fund-raiser. There's going to be a wrapped box with envelopes on the side ... if anybody wants to put anything in there they can. If not, they don't have to - it's a free show.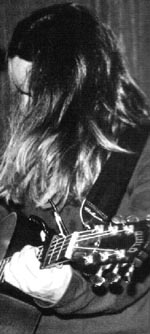 Anthony: it's actually for the vision of the band, to support where we're heading to. There's a lot of things we want to do. Travel across the United States and maybe make a destination at the mall in Washington for the Youth Festival. A million youth are gathering there in September.
RA: Why are they doing that?
April: For God.
Joshua: We spend a lot as a band and we don't make very much. So it's a free show and it's a birthday thing ... you know we do tips at Universal.
RA: Tips at Universal?
Joshua: We play at Universal City Walk.
April: For tips.
Joshua: We auditioned for placement on their street performers thing. So we're scheduled in three or four times a month.
RA: So other bands audition?
Joshua: We auditioned two and a half years ago, there were a lot of bands [that tried to get it] because of the international people that come through.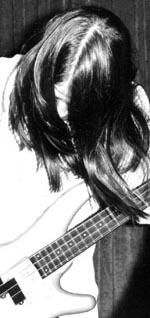 Shane: Yeah, we don't even usually advertise the shows because it brings its own crowd. We're able to set up our own booth and sell our CD's and T-shirts.
Anthony: Like 300 or so people gather around the band.
Shane: So every time I make new fans on the website gathering email addresses to mail out and things like that. So it's really good exposure.
Anthony: And it's worldwide.
Joshua: A lot of times in our guestbook on our site we get things like ... "really loved your show. Think it's great. Back in Germany now. Let us know when you come out with a CD."
Shane: That's what's funny too though. A lot of those people that aren't from California or even America, they think that we're a really famous band that like we're already really mainstream.
RA: You're not?
Shane: Not quite just yet. (Chuckles.) They'll come up to us and ask us to sign the CD's. We don't sign near as many autographs at any other place than Universal for sure, because the crowd there is so diverse. I don't know, they just dig it.
RA: The website is?
Steve: Oh, can I say this? WWW.Thr3.com.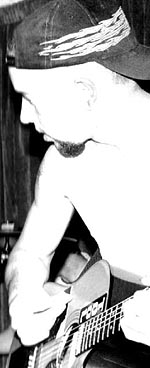 RA: If people feel wacky and decide to bring gifts to this Friday ...
Mike: Flowers. That's all I have to say for the day.
April: I'd like a bumper sticker for my car. Any bumper sticker ... something happy.
Steve: I need a new drum set.
Anthony: If anybody wants to donate a bus ... so we can travel.
April: or a van.
Anthony: Most importantly donations are the things that help the most. But, anything would be great and nothing will be great. Their love just coming would be great.
April: Yeah, I'd like a few hugs.
Joshua: We're excited about the people who have been following us from the beginning ... even in Pasadena we run into people all the time who recognize us on the street. I know Shane was at the Derby the other night...
Shane: Yeah, I was there on Monday, there's this young girl and she kept looking my way and you look around over your shoulder to see who she's looking at (Laughs.) 'cause it's not you right? But she kept making it obvious that she was looking at me. So I started to go towards her, but I'm a big chicken so she saw and goes up to me and says, "Your name's Shane right?" I said, "What? How'd you know that?" she goes, "You're in that band tHr3, right, don't you play the bass or something?" So that's really funny ... I was way over in Hollywood, in a completely different music circle.
RA: What's the rest of that story?
Shane: (Chuckles.) Oh, it didn't go any further than that.
Joshua: Like we went to the bank the other day to open an account. And the bank manager goes, "Oh a band, tHr3. I saw your flyer in such and such a place." And he knew we were playing there and today we were passing out flyers at PCC and I had three or four people come up to me and say, "Oh yeah we heard of the band ... are you playing in old town soon?"
RA: Are you all Altadena residents?
Anthony: Mike lives in Monrovia.
Shane: I live in Pasadena ... Yeah, I'm not far .. just down the hill here at Lake...
Steve: His address is ... (Laughs all around.)
Anthony: Josh lives in Altadena by JPL and Steve and April live here [in the house attached to the studio].
Joshua: Although, Shane and I used to live right here in this room. We had an apartment in Pasadena, but our roommate left and we needed a place, so we were here for about two years.
April: It was supposed to be a month.
RA: Were you practicing here still?
Joshua: Yeah.
April: And it looked just like this.
Joshua: This was it, our studio, our bedroom.
RA: What was the original purpose of this room?
Steve: My dad's studio.
Joshua: A pub.
April: No, no, it was never a pub.
RA: Studio for what?
April: He paints murals.
Joshua: In fact he's in Japan right now.
Steve: Painting different rides in Disneyland, like Indiana Jones.
April: You know those backgrounds for things.
RA: Any big announcements for the band?
Anthony: We're working on a new album.
Shane: Announcements are at the website or ask at thr3_the_band@yahoo.com
Anthony: We have a festival that's pretty big at Lancaster, CA that's coming up in April.
April: My birthday's in April.
Joshua: We're going to eat sushi for our birthdays [tonight]. Shane and I.
RA: Because sushi has some significance...?
Steve: That's how we got the name of the band.
(Laughs all around.)