Ross Anthony, M.Ed. (A Los Angeles Creative)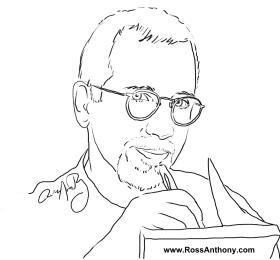 Hi, I'm Author Ross Anthony. I'll cook up and serve chili to a homeless person when you purchase a copy of my personally handbound and signed-to-you 2010 book Zen Repair and the Art of Riding Chili. Btw, Chili is the name of that red dirtbike. Chili's taken me coast to coast across America's sweet country roads and now she helps me deliver chili to homeless in our cities. Wanna help, too?

* First Annual (2010) Details of the Day *
* Back to Chili4homeless "Home" *
---
© 2011 photos, text, art, music copyright Ross Anthony. Thank you to all those who have participated in chil4homeless! (My Readers! My Friends! My Family! Misc. Strangers! Liem, Kocanda, Galati, Rand, Keszek, and many many more!
Last Modified: Wednesday, 26-Mar-2014 21:46:16 PDT