Ross Anthony, M.Ed. (A Los Angeles Creative)
This April only 3 people supported the Chili4homeless event. A small number? The 3 homeless people who received the 3 bowls of chili seemed pretty darned happy about it. And I was happy, too. No doubt, the supporters were as well - THANK YOU. Turned out I knew of three homeless folks on the west side of LA. They were easy to find because they'd found themselves a park bench, or underpass from which they seldom strayed. And these three in particular populated their locations with a surprising amount of "stuff." As I had a biz meeting and errands on the west side, I decided to take the car instead of my trusty motorcycle named Chili. I do hope that's not cheating. The west side is easy to get to by highway, but Chili's not allowed on the highway (she's a 125cc -- I think the min is 185?). And 25 miles of LA surface streets stop-n-go would certainly let the chili get cold. Anyway, that's my excuse and I'm stickin' to it! So, I cooked up the chili, put it in recycled plastic containers w/lids to keep it even warmer, and then an insolated cooler; and I headed west.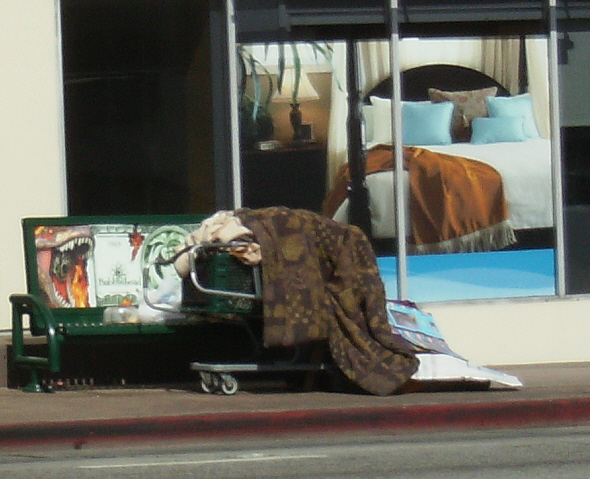 The first fellow was trying to get some sleep. He had a blanket over his possessions and his self. I would have assumed that he wasn't "home," if I hadn't happened to see him rolling over and repositioning the blanket. Technically, I didn't see him, just the impression of his head and back against the blanket. Still it wasn't hard to miss the biting irony of the huge storefront photo of a luxury bed behind him.
"Hey, I've got some chili here. You want some. It's still hot." I said to the head-shaped indentation in the blanket.
"Ah -- yeah." The blanket responded. And a deeply sun-tanned and weathered open hand reached out from under it.
As I placed the chili in the hand, I asked, "You got a spoon?"
"I can get one."
"I'll give you one now."
And one of the fingers clamped the spoon against the plastic container as the hand retracted back under the blanket.
"Thanks!"
"You're welcome."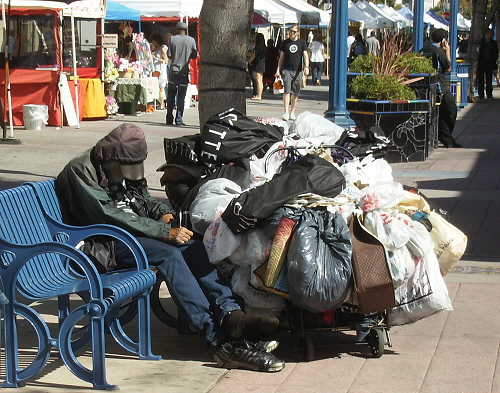 And I walked off to the second fellow. A farmer's market had set up on his street, but it didn't seem to deter him. He, too, was catching a wink, but out in the open and sitting up. I disturbed his slumber.
"Hey, want some chili?"
"Chili? Sure. Thanks."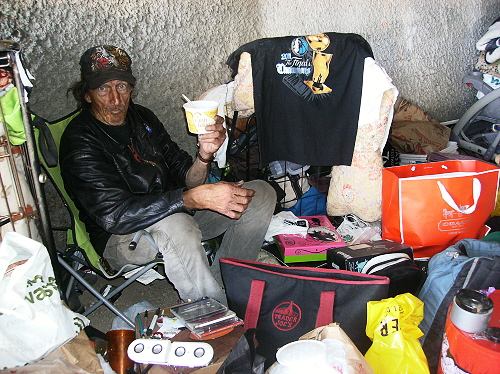 I took care of my errands and on the way to my meeting, I parked near the underpass and walked the last container of chili over.
"Got some chili, last one. Want it?"
"Homemade?"
"Yep."
"Absolutely."
"Just happen to have some chili?"
"Every year a group of folks help me by buying books and I cook up some chili for homeless folks."
"Well, cool, thanks to them."
"So how long have you been here?"
"Too long, I'm trying to get myself out."
"Great, how close are you to doing that?"
"Just got to organize this stuff first. Towards the end, it all comes together quick."
"Oh."


* Back to Chili4homeless "Home" *
---
© 2013 photos, text, art, music copyright Ross Anthony. Thank you to all those who have participated in chil4homeless! (My Readers! My Friends! My Family! Misc. Strangers! Kocanda, Galati, Rand, Keszek, and many many more!
Last Modified: Wednesday, 26-Mar-2014 20:43:49 PDT