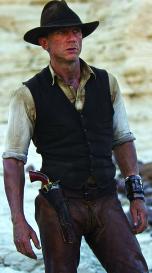 A+ for title. What red-blooded American wouldn't want to see this picture? It begs film-goers to drop any expectations of plot and just indulge in the odd mix of rich nostalgia with contrasting sci-fi. What could be more fun than pitting past against future? Even chocolate and peanut butter can't beat that!
To my surprise, though heavily slanted toward the cowboys, the film actually offers an engaging story. Actor Daniel Craig (AKA 007), despite being British, makes for one of America's best film cowboys. (Dare I say even grittier than Jeff Bridges in True Grit). Craig's so cool, aptly expressing much with just a look. On the other hand, Harrison Ford (AKA Indiana Jones), despite being a local boy, fits awkwardly into his role here. The part really demands a heavier, darker actor. Otherwise, the film is well acted.
In addition, director Jon Favreau creates and maintains a great pace. It's never boring, always fun, and even connects emotively on occasion. Those expecting non-stop battling between cowboys and aliens may be a bit disappointed, as that conflict is only one of several, which makes the film even more interesting to me. Best to think of it as a revival of the old cowboy films of yesteryear, sporting an almost incidental alien confrontation.
Though realized on film fine enough, the aliens themselves (and their plights) aren't all that richly developed. So, I'll grade the film an A-. However, if a better cast than Ford was found, the film would have been an A. I liked it!