Simply put, the best film of the year so far. We film reviewers see three or four (or more) pictures a week, so you may not need any further convincing. But if you do ... read on. And for those of you that trust this reviewer and like surprises, stop reading and go see the film!
Direction: A
Acting: A
Cinematography: A
Editing: A
Music and Sound: A
Make-up: A
Story: A
The sun's flares (nicely visually represented) spool upward (to the tune of "Crimson and Clover") 93 million miles away from our spinning planet, causing beautiful blue neon illuminations across the starry starry night skies of a 1969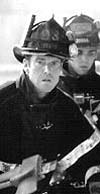 and 1999 New York city. These freak conditions cross wavelengths with time, making the impossible possible as a 36 year old son talks to his 40 year old (and currently deceased) father over an old H.A.M. radio transceiver.
The father and son connections, which occur in the same room, but three decades apart, are so thick and resonating you'll want the entire film to remain focused on them. Though never leaving that relationship, "Frequency" pitches a cops and homicide story to boot. Pay attention, toggles in time are not always announced with convenient captions - which adds to the allure, mystery, and off-kilter swirl.
A tasty fire motif simmers under whirling planet simulations that surface at the right times and places to keep the perspective appropriately wide and tilted. All elements merge in a constructive interference to create a wonderfully eerie aura (or should I say aurora?) that will swell your chest and dominate your breath, enlarging your nostrils,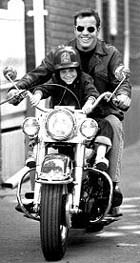 hardening your Adam's apple and moistening your tear ducts. The woman beside me rolled back and forth, alternately crying out, blowing her nose, laughing, and covering her eyes like an infant.
I have only two contentions, both of which are minor and may actually have good explanations (if you know ... send them in.) 1) Fire-triggered sprinkler systems in a 1969 police station? 2) How did son John know the specific choices in the moment prior to his father's death? (Btw, Jim Caviezel is awesome.)
"Backdraft" plus "The Sixth Sense" equals "Frequency." I'd have titled it: "A Matter of Time," "Father and Sun Flares," "The Same Wavelength," "Communication Hertz" or "Serial Killer and H.A.M." Hey, stop reading and go see it!