The Wayans brothers are back, bringing their wacky "scare tactics" to the screen. It's goofy silly humor, from the most graphic sex jokes you'll ever see on film to those old, tired, pot-head gags, to truly funny spoofs of the fright genre from "I Know What You Did Last Summer" to "The Sixth Sense." There are also some real (in a cinematic sense) hacking murders.
So if you like that kind of thing ... this is the kind of film you'll like. Not over the top, gut-busting, but still pretty darned funny.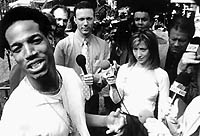 A group of college age friends harbor the secret of the poor bloke they accidentally killed a year ago. All the while some psycho-killer in a K-mart Halloween mask targets them.
I especially enjoyed the use of "The Matrix" special effects in a comedic setting. Inventive fun.
Kudos to director Keenen Ivory Wayans for keeping the picture "lively" and hoppin'. He's a smart creative force from whom I'm always excited to see new pieces.