Well yes, the first one's better; but this second pie still has plenty of gut-busting, school day, risque filling.
Jim and the gang return in this sequel, retreating to a lakeside (looks like the ocean to me) cottage after finishing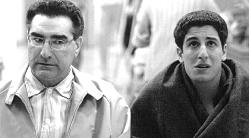 their freshman year of college. The film opens with Jim's father stopping by the dorm just as Jim and college coed friend rock the bedsprings. "I'm not embarrassed," Jim's dad maturely declares. "I am!" Jim retorts.
That scene proceeds to crack up the theater and get the pie rolling nicely up until an awkward trombone scene. This is where the movie's imperfections surface and it becomes apparent that the writers have very little planned for us in the way of plot progression. Aside from a string of set pieces, there's not much to build toward that "big beach party" ending; fortunately, a whole lot of laughs carry us through.
Happy-go-no-brain Stifler seeks out women's body parts wherever possible. Finch romanticizes Stifler's mom, while seeking nirvana in sustained orgasms. Kevin and Vicky are awkward friends, while Oz holds out for his one true love. Again Jim and his sexual atrocities dominate the film.

Make no mistake; this is not a family picture (unless you're Jim's dad). The sexual suggestions and actual executions are brazen, particularly an odd "potential lesbian" sequence that had viewers by their ears (and other body parts, no doubt).
In short, high production value, loveably quirky characters, very good actors, and a script that meanders more than consummates. Whereas the first "Pie" took a solid story and built in great laughs, "Pie2" takes big laughs and forces in some story. Still, If you like these kinds of films, you'll have a good time.
(Something more about Thomas Ian Nicholas (Kevin): Nicholas also writes, sings and plays guitar for the band The T.I.N.men, they released their first album in 1998 entitled "Something More.")