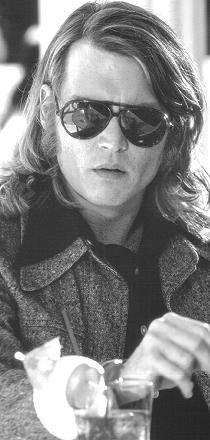 After growing up watching his saintly father and materialistic mother argue over money, George Jung grasps the American Dream his own way - pioneering the large-scale transport of Colombian cocaine (blow) into the US.
Based on a true story (Jung is still in prison), Depp plays Jung with an intense sense of innocence and honor. No doubt you'll be left with the impression that he was the victim after an interesting entrepreneurial ride from rags to boxes so full of riches that the average home could no longer contain them. Seemingly surprised to be detained, he explains to the judge, "I just crossed an imaginary line with a bunch of plants."
Though the film spends much time on various relationships (friends, lovers, affiliates) associated with drug production and transport, the meatiest moments are found between Jung and father (Ray Liota). Depp is good, albeit a bit prosaic; however Liota commands the screen during his brief refrains, "Money isn't real. It doesn't matter."
"Blow" follows Jung's ambitious career across country, across borders, and from both sides of prison bars. A mini-epic, the film begins in the 50's (appropriately filmed with over-saturated colors), concentrating on Jung's glory days in the 70's.
Grade Qualifier: As a matter of subjective taste ... I tend to not prefer movies focusing exclusively on drugs. Take this into consideration when evaluating my grade for this film.