Angelina Jolie is Lara Croft, British archeologist, linguist, and heroine of the video game "Tomb Raider." Not surprisingly, this new action hero's name comprises the first half of the title ... you can expect far more Lara Croft than tomb raiding (but that's not a bad thing).
Crafty Croft wields knives, guns, even while maneuvering a slick motorcycle. Director Simon West gives her the look and feel of Batman (could that have anything to do with his last name?) She's seldom scared, even when challenged by many well-armed bad guys or computer-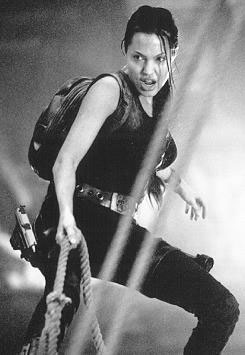 generated attack-statues. More often, she's spiritual in her practice or melancholy while daydreaming about her late father whose journals lay out her purpose in this film. Btw, he's played by John Voight ... Angelina's real life father.
Quite relaxing for an action movie, "Tomb Raider's" in-betweens ease with gentle meditative preparation and confidence for the big fight scenes. Jolie's introspective serenity coupled with the cinematographer's slick rolling shots (always with an eye for spectacle) provide the film with plenty of calming scenery. In fact, you'll be taken to the ends of the Earth: London, Venice, Cambodia, Iceland. You'll paddle through a floating market in Asia and dogsled across a snowy "dead-zone" near the Arctic Circle. (If not for its length, "Tomb Raider" may have made a swell large format release.)
As the planets align (only once every 5000 years), a secret society seeks to re-unite the two

halves of the hidden triangle of time ... giving them the power of god. Unless Lara Croft can connect the pieces of the puzzle first, the world will not likely survive the inevitable abuse of this power. In short, our hero must "save time."
Lara wrestles a robot spider twice her size, but that's just a teaser for the real action. Of particular delight, her bungy cord exercises that swiftly become combat maneuvers when her mansion falls under siege. In fact, aside from some non-threatening cg-statue foes, most of the visual conflict is exciting, creative and well captured on film.
The dialogue stumbles a bit, especially at the outset and finish, climaxing with schmaltzy near-dribble. The arch bad guy, Powell, however, more often than not articulates fairly well, "It's a pleasurable torment. My ignorance amuses me." Fortunately, the director punctuates the film with silence.
As is the case with superheroes, their archenemies all too often fail to just shoot them when they have the chance. Lara is no exception. Additionally, "Tomb Raider" feels overplayed, continuing with a hand-to-hand bout after the fate of the planet has been decided. These imperfections steal from the picture's otherwise deserved intensity.
All in all, "Tomb Raider" flaunts some prime choice art direction, set design and cinematography. For the most part, this respectable cast tells the story well, feeding bite-sized clues to the audience instead of biting our heads off with exposition. Not perfect, but slick ... a strong B+.