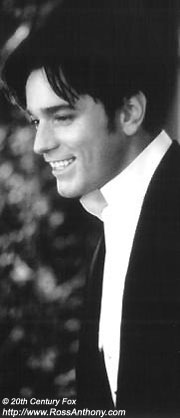 A vivacious conductor directs the familiar 20th Century Fox theme. A splendidly apropos addition to their logo and a charming introduction to a film that lavishly mixes the old with the new, musically, lyrically, visually, from film to tape, from the 1890's to 1990's.
1890-something, Paris, Ewan haps into a playwright/composer opportunity that cusps upon the approval of Nicole Kidman, prize prostitute at the indulgently adorned brothel "Moulin Rouge." Ah, but a rich unlikable duke holds the cash that can turn the "Rouge" into a legitimate theater making Kidman's dreams come true - but at the cost of her future. At first sight of her, Ewan falls in love.
Noisy, bumbling and dissonant, the picture opens sporting painfully quick cuts and an annoying band of thespians. I sigh and brace myself for a rough ride ... and then Ewan sings. My God, the purity of his voice cuts through this clamor like hot honey through ice. My worries melt, the foolish actors pause, jaws lowered too, then they reprise their fumbling, only to be stopped again by Ewan's enchanting melodies. To add to the luscious oddity, Ewan's poetry is 20th century: From Elton John, to the Beatles, to "The Sound of Music" selections. The cuts lengthen, the bumbling gives way to juicy drama and eccentric humor. From which, this eclectic mix of time and tunes pulls its sparkles together like the shiny elements in a kaleidoscope.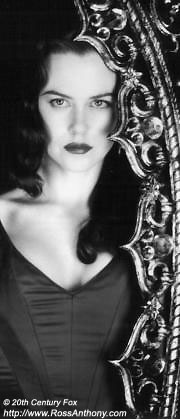 Constructing surreal Parisian cityscapes with cameras and computers instead of plasterboard and nails, director Baz Lurhmann paints aggressively with blues and whites; accenting the mix with seductive red.
But it's the audio pallet that orchestrates all intentions. Jim Broadbent grunts out Madonna's "Like a Virgin," his big baritone vaudevillian voice giving the piece a new sense. A bohemian fiddle cries, weaving in and out of a variation to Sting's "Roxanne." And then, gorgeously directed, the visuals and scores climax beautifully at the end of a disciplined second act.
Ewan's undying belief in love, "Love is like oxygen, it's a many splendored thing, it lifts us up where we belong, all you need is love," and his magical mystery vocals power this abstract painting like Russell Crowe in Gladiator.
Though they lie impotent at the feet of so much artistic energy, this extravagant spectacle has but a few flaws. First, as mentioned, the blotchy opening act and silly acting troupe distract (even if it may have been an aesthetic choice). John Leguizamo, a fantastic dramatic actor, feels horribly miscast as the dwarf. An early scene inside the elephant (bedroom) has McGregor hiding behind Kidman from the duke ... these sitcom antics fall far below the might, resourcefulness, and whit of this edgy-production. Lastly, though aptly chosen and perfectly song, Elton John's "Your Song" reprises just one two many times.
Again, these are mere weeds between the toes of a splendidly costumed Indian elephant of a film fit to carry royalty (or theater-going audiences). Speaking of which, ours gave the picture a robust round of applause.