I'm a big Ben fan (Stiller, not the clock in London). And this movie is funny, really ... it's just, it's just ... I don't know? ... Missing that inexplicable special something.
Ben is Derek Zoolander, male supermodel with a different "look" for each calendar month, though all his faces "look" the same. The glossy

surface of his thin fashion world takes a scratch when the hot new kid (Owen Wilson) challenges Zoolander's reign. One other snag, Derek is brainwashed to assassinate the premier of Malaysia in order to keep child labor laws from hindering sweatshop-clothing success. Those in power choose Zoolander, since Fabio was too smart for the job.
Sound silly? You bet! Amidst the light-hearted absurdity, fashion jokes, dumb model stereotypes, many knee-slapping bits arise. But, you'll have to wait for the exact moment of climax for that deep belly-roll laugh - a razor sharp gag that one.
Rhinestone-studded with star cameos from David Bowie to Natalie Portman, this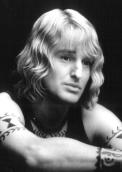 fashion-spoof fails to paint a pretty picture perfect image on the screen. If this was indeed shot on film, a low-quality stock must have been employed.
Ben's accent, though satirical, nonetheless gets in the way of his natural sense of humor. Owen Wilson, known for his thinking man roles ("Shanghai Noon," "BottleRocket") manages the difficult challenge of playing the smartest of a dim breed. While Ben's wife, Christine Taylor, handles the film's "straight man" role respectfully and his dad, Jerry, suits up comfortably as agent Maury Ballstein. Sister Amy and mother Anne Meara also appear.
"I'm pretty sure there's more to life than just being really, really good looking, and I plan on finding out what that is."
It's a gender-changed "Legally Blonde" that doesn't earn quite the same high marks. But Zoolander's still fun (or should I say "Stiller fun?")